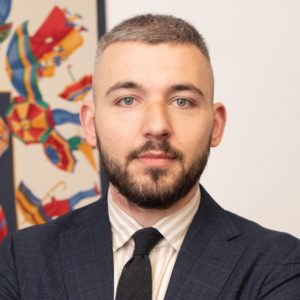 Francesco Maglia
Francesco started working at the age of 14 during the summer of 2004 because he wanted to buy a moped. During the following years, he always worked as a laborer in the summer months. After high school he applied for law, but continued to work in a large family business (50/60 employees) in the sports sector. It was important to his father that he worked outside the family business to gain other experiences.
In 2013, he was officially accepted into the family company Francesco di Maglia Luigi & C. as a worker. In the following years, he lived in contact with employees and suppliers. He was thus able to complete the long training process required by his profession. In 2016, he worked at an English umbrella company to experience first-hand the various craft methods that still set them apart today.
After returning to Italy, he decided to open an accessories store that would allow him to study a new business model. There were fewer and fewer multi-brand stores and he felt the need to move from a B2B business model to a B2C model that could increasingly confirm the presence of the Francesco Maglia brand on the market.
In 2019, after closing the store, he took control of the company to start a "revolution" in sales systems and start the digitization process. In August 2019, with the support of his father, he took over the management of the company and in the following months opened a showroom in Shanghai dedicated exclusively to selling to the public. In 2020, the company launched e-commerce, which led to considerable interest in their brand.
At the same time, thanks to the experience gained with groups such as LVMH, Kering and Richemont, they started an important journey aimed at achieving maximum sustainability in production processes.